14.- 28.11.2018, Orplid, Kulturzentrum, Ludwigsburg, DE
Orplid​ is a performative installation created in the context of the 300th anniversary of the City of Ludwigsburg in juxtaposition to Eduard Mörike's fantastic island state Orplid, comissioned by Mörike Gesellschaft e.V.
The project is accompanied by a publication designed by HuM Collective.

A project by n.n.n. collective (Julia Schäfer & Susanne Brendel and Jasmin Schädler) i.a.

In cooperation with Mörike Gesellschaft e.V. and Akademie für Darstellende Kunst Baden-Württemberg.

Funded by Arbeitsgemeinschaft der literarischen Gesellschaften und Gedenkstätten (ALG), the City of Ludwigsburg and the Ludwigsburg Civic Foundation.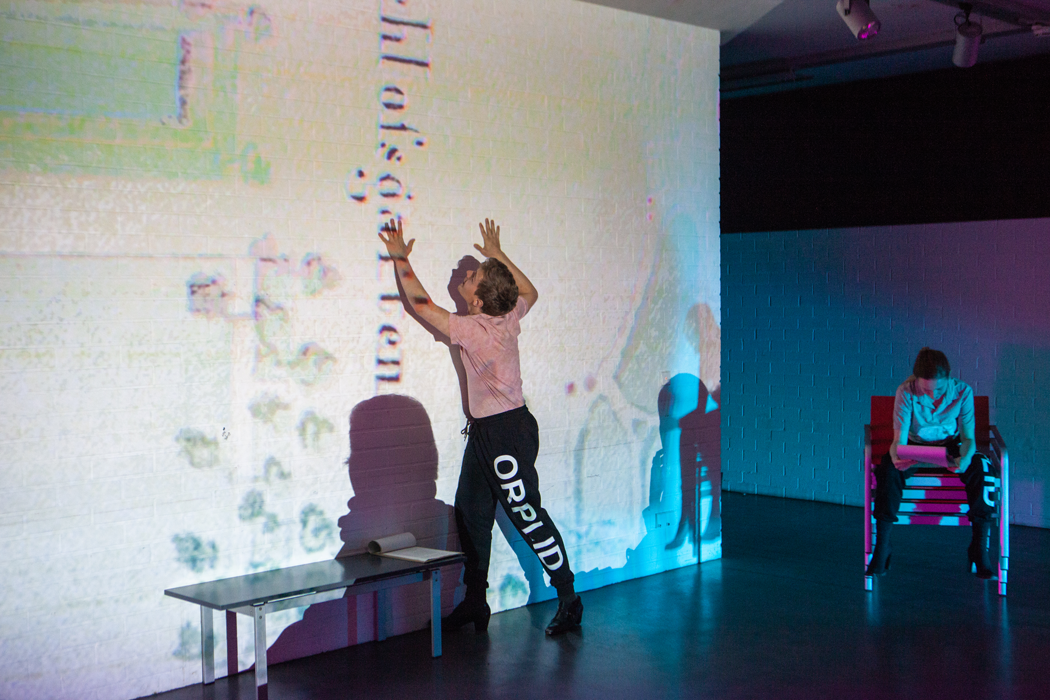 © n.n.n. collective
28.09.- 20.10.2018, Algorithmic Gaze, [hai:defi'ni∫en] group exhibition, Kunstverein, Schorndorf, DE
Initiated by a self-experiment of uploading fragmented images of my own body as search terms for Google Reverse Image Search, this research endeavour is investigating the algorithmic gaze. It is a performative research project investigating computer vision and body images, speculating how the latter will be influenced by the former. The associated lecture performance creates a focal point between the personal, political, technological and mythological gaze and invites to consider and influence how we see ourselves.
Ahead of the exhibiton Algorithmic Gaze was presented twice solely as lecture performance: On June 23, 2018 as part of the feature day (de)coding bodies at Kunstverein Hildesheim, sowas well as on July 04, 2018 as part of the Dutch Art Institute Kitchen prasentations at Circuits & Currents in Athens.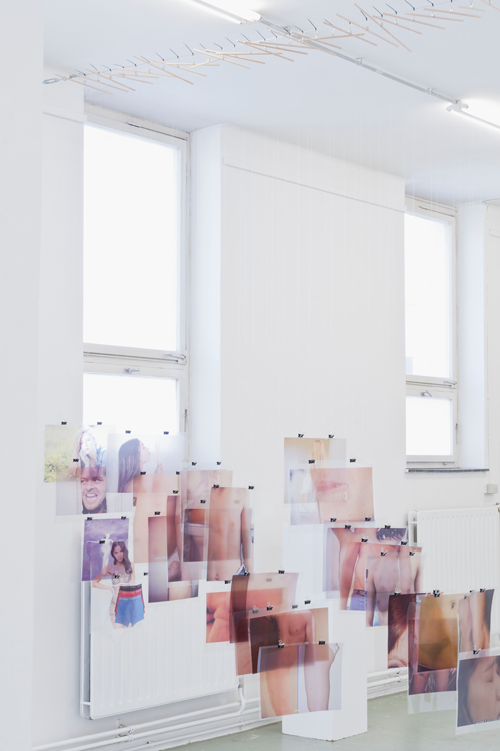 © Jasmin Schädler
01.06.2018, Topologies of Touch, group exhibition, Circuits & Currents, Athens, GR
Das Topologies of Touch COOP Summit Projekt centres the sense of touch in a materialistic world. It invites the visitor to meet divergent approaches to production that have been affected, conditioned, and touched on many levels by different factors orbiting around time and space: understanding time as a closed curved surface and our bodies as spaces gravitating within that surface, dreamlike and real at the same time.
My personal contricutions to the exhibition included two performances and one installation. I have asked friends and family to send me videos of how they touch things. These vieos I showed to the audience in small groups while asking them to reflect on who, what and how (often) they touch throughout the day. Afterwards they were invited to enhance their sense of touch by playing a touch memory. For the second performance I investigated bodily touch by enhancing surface structures with piezo contact microphones, creating a synaesthetic live soundscape. In the basement of the gallery was a large white balloon floating above a needle, anticipating fatal touch.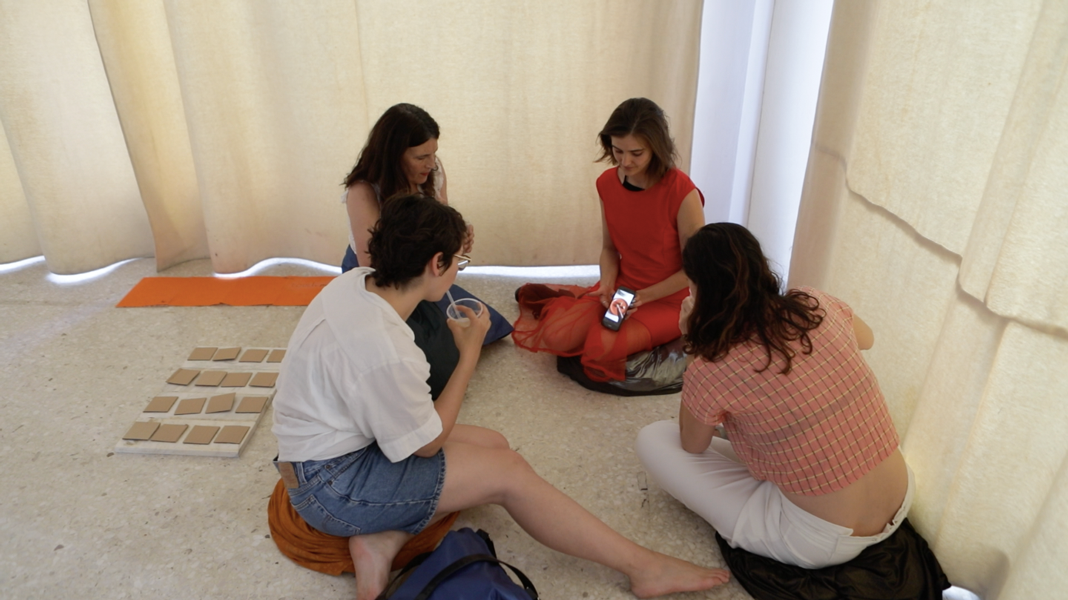 © Silvia Ulloa Marquez
© Silvia Ulloa Marquez
26.05.- 03.06.2018, Das ist keine Welt, Nordlabor Schauspiel, Stuttgart, DE
An exhibition accompanying the staging of Peter Handkes Die Publikumsbeschimpfung.
The soundinstallation Concrete Sound Mixer is inspired by the rules Handke prepended to his text. They request the actors, in preparation for the play, to pay attention to the commencing of different repetitive movements like turning tires or the revolting of a concrete mixer, as well as music and sounds from politically charged contexts, including debates as well as football choirs. The installation consists of a concrete mixer equipped with two Bluetooth speakers that are controlled by two MP3 players with an extended selection of the proposed sounds. The concrete mixer can be turned off and on with a foot pedal.
The sculpture WIR BEFRIEDIGEN IHRE SCHAULUST (we satisfy your voyeurism) floats imminently above the heads of the audience in the lobby while they are waiting to see the show.

In cooperation with Nordlabor, Schauspiel Stuttgart.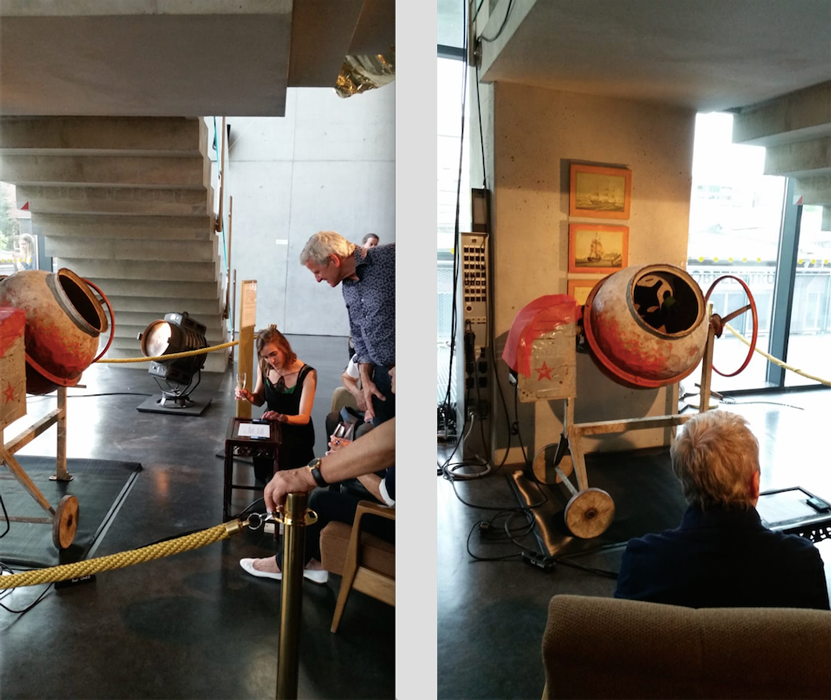 © Jasmin Schädler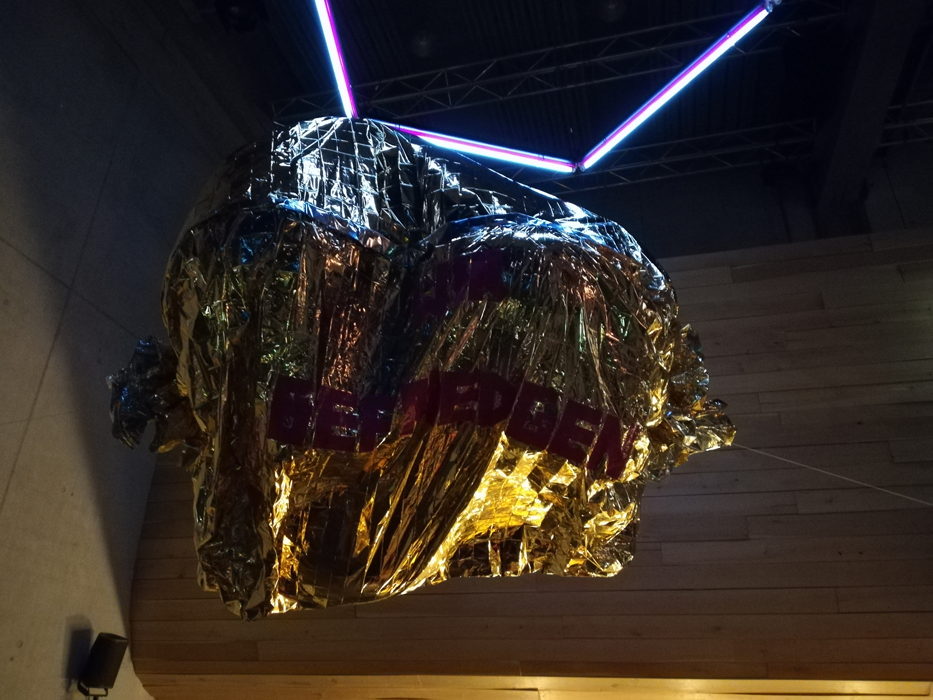 © Jasmin Schädler
06. & 09.- 10.04.2018, forever apocalyptic, Municipal Library, Stuttgart, DE
forever apocalyptic pursues the desire for world conspiracies. The apocalyptic dancers have dedicated themselves to the task of exploring end-time scenarios and apocalyptic fantasies with the means of the performing arts. They embark on an aesthetic journey to the end of the world with their bodies and place their limbs at the disposal of conspiratorial convulsions. In this way they want to resume a thread of conversation that has been torn off. The starting point is the thesis that apocalyptic speech and the language of conspiracy theory are closely related to each other.
The performance was accompanied by workshops, lectures and apocalyptic body training. The full programm can be found here: forever apocalyptic.
A project by die apokalyptische tänzerin*nen and Produktionsbüro schæfer&sœhne.

In cooperation with Theater Rampe, Stadtbibliothek Stuttgart.

Funded by the City of Stuttgart, by the Association of Independent Dance and Theatre Creators in Baden-Württemberg through means of the State Ministry of Baden-Wuerttemberg for Sciences, Research and Arts.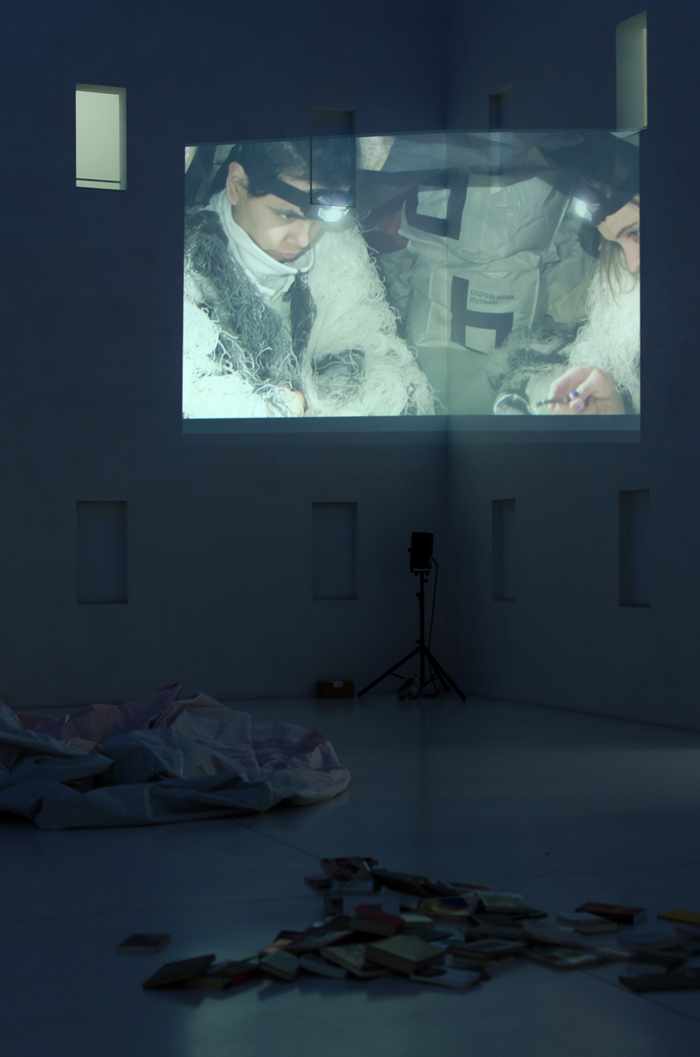 © Susanne Brendel
19.03.- 14.04.2018, Bunker Lesung, Stadtbibliothek, Stuttgart, DE
Sitting inside the bunker. Following the catastrophe, the apocalypse, waiting for a sign from outside, the apocalyptic dancers conspire, seek occupation and resolutions in past prophecies, remember the time before and dare a glimpse into the uncertain future. The three of them send a coded message to the outside world, while creatures of the future are already wandering through the picture as apparition. Stranded in the basement of the municipal library on Mailänder Platz. Protected by layers of down and neoprene.

A project by die apokalyptische tänzerin*nen and Produktionsbüro schæfer&sœhne.

In cooperation with Stadtbibliothek Stuttgart.

Funded by the City of Stuttgart.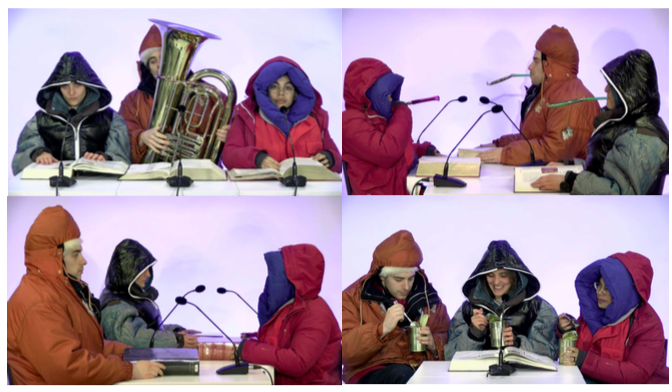 © die apokalyptischen tänzerin*nen